"Collaboration happens at the speed of trust."
Regardless of the business or field you are in, there is nothing more important than being able to trust the people you do business with each day. Whether it is the people you work with regularly within your office or partners you collaborate with on a monthly basis. If there is no trust, then successfully achieving your collective goals will be difficult, to say the least. So how do you build trustworthy partnerships? Keep reading and I will tell you.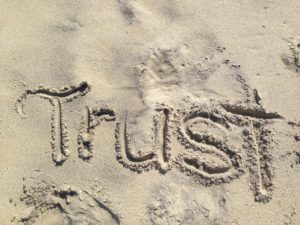 First, let's talk about how this topic became my latest post. Over the past few months I have had the opportunity to be part of an affinity group (organized by Maryland Nonprofits) focused on Collective Impact and it has been a really great learning experience (more to come in the near future on the Collective Impact model). As a natural extrovert, social butterfly and extremely fair individual I have always felt that I am really good at building and sustaining solid partnerships. So good, that a great deal of of my company's direction is focused on helping non-profit organizations improve their skills at developing partnerships. But, I want to be more than just good at it, I want to be great at collaboration! Which is why I joined this group. I wanted to take my partnership development skills to the next level and learn different ways to make partnerships actually work and work well.
Now, let's talk about how to build trustworthy partnerships. There are five elements to the Collective Impact framework and our group has been tackling each element, as well as their characteristics. However, we recognized that if an organization hopes to be successful in achieving collective impact, then TRUST must be established before any of these five elements can be implemented. As the group began having this discussion, I couldn't help but think back to some of the most successful partnerships I encountered as well as those that were not so great. I started asking myself, what made them work so well? What did I do or my partners do to ensure it was a good relationship? What happened with those that weren't very good? What could have been done differently? So many questions ran through my mind and the one that kept coming up for me was "did we really have a relationship built on trust?" As we listened to an example about a successful public-private collaboration, I imagined that others around the table were having this very same conversation in their heads.
Needless to say, I immediately thought this would be a great blog topic. I think we all want to know how to improve collaboration and be really good at doing it.  So, here are my ingredients from over the years, plus a few of my "take aways" from the conversation, for building trustworthy relationships. They are not necessarily new or groundbreaking, but there are a few I think many people sometimes forget to consistently honor in collaboration.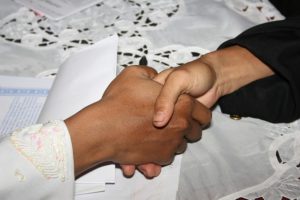 Identify and determine roles upfront by developing some form of an agreement like a memorandum of understanding (MOU).
Be clear on expectations, establish your goals and objectives, and create a feasible  timeline. This will prevent partners from feeling it is a one-sided relationship.
Do what you say you are going to do!
Be honest and respectful (even if you disagree). If someone is personally offended by something you said or did or vice versa; request to have a conversation with them and discuss what happened and how it can be prevented in the future.
Be aware. During disagreements listen to the concerns of your partners; ask them what solutions they may have; discuss the solutions and determine collectively what works best for that situation and each of your organizations/businesses.
Be responsible and take ownership of your mistakes. If you were supposed to do something and you didn't, own up to it and say how you will move forward to make it right and ensure it gets done.
Admit to not knowing. It's really okay if you do not know something. People appreciate it when you say you don't know but you will find out the answer or who has the answer.
Understand that the definition of "having the authority" does not equate to micromanaging if you are the leader or senior person in the partnership. Trust in the experiences and expertise that each partner brings to the table.
True collaboration and building trust doesn't happen overnight or even in one year. It often takes a lot of time.
Whether you are implementing the Collective Impact framework or just looking at ways to improve the way you work with your partners, remember that building a solid foundation of trust is essential to ensuring any kind of relationship will be successful.